Whether you require bi-fold or by-pass, we have both options available to suit your window style.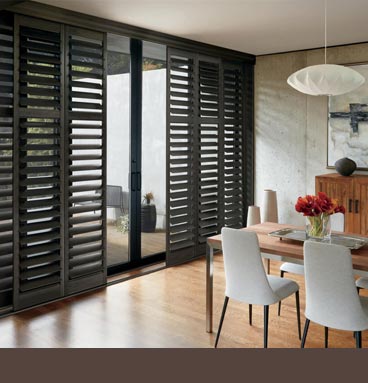 Whether you require bi-fold or by-pass, we have both options available to suit your window style.
Intelligent and stylish, tracked shutters slide effortlessly past one another or fold away to create a picturesque window covering. 
Tracked shutters are ideal for

Wardrobes, room dividers, large windows, patio doors

Glide smoothly along a discrete track 

Bi-fold or by-pass options available 

The shutters concertina back neatly, allowing you to enjoy the view

Lifetime warranty on our Signature Shutters
What material is available for tracked shutters?
We measure, we fit, you relax.
Visit our showroom for a free consultation with our Interior Designer!
We had the pleasure of working with Maria, Kenneth and Aniel to measure, consult and fit our blinds and curtains for our villa. They were fantastic right from the get go. The team offered us suggestions for what would look good, something that we hadn't actually thought about but we ended up taking their advice and going with it. They were quick and efficient and had all the blinds and curtains made and installed in under a week. Well done team, we love your professionalism and customer service!

Yolaine Johanson


May 16, 2020

Amazing company, very professional and great price with amazing staff , they came on time got the materials with them gave me options and helped me what fits better in my house and gave the price on spot , have the card machine with them and the invoice paper on spot and time gave me to installation was exactly and clean after finishing. Very recommend nice staff

elias maayeh


July 6, 2020

The Service was more professional than I would have expected for a company I never heard of before. The team came to the house for consultation and they had great expert knowledge of the blinds and helped me choose the right one without being pushy. I went for the electric roller and they even made suggestion on how they can install it paying attention to the smallest details. Kenneth, Maria and Ariel came back again within a week and installed the roll up blind that exceeded my expectation. All this time they respected the COVID-19 precautions with proper PPE and worked very fast to ensure minimal disruption. They even cleaned up after themselves ! EXCELLENCE

Ibrahim Bashir


May 11, 2020

I purchased zebra blinds for two rooms. They have a huge catalogue of products to select from and the quality is really good. Ms Nicole at the store was very kind and helpful and she organized the appointment for the team to take the measurements. Team (Ms Maria, Mr Kenneth Aniel) arrived just on time, took the measures, and came back for installation again just on time as they promised. They did a very nice job with the installation of the blinds with perfect fit, and they worked very clean. I even didn't have to do any cleaning after the installation. All of the team members were very kind and professional, and they finished their work quickly. The price may be a bit expensive compared to the market, but the quality of the work and product, and the timelines compensates the difference. Thank you for the good work.

Hakan Esin


May 10, 2020

I am very pleased with my experience with Blindtex. Their motorised blinds are of high quality and their staff are professional and friendly! Maria communicated with me efficiently when I had any queries, and scheduled appointments without any delay. Kenneth is an expert at blind installation, he is very thorough and precise! I have a very large motorised blind installed in the bedroom that was initially causing some trouble, but the Blindtex team found a solution and sorted it out. I am extremely happy with the end results, thank you Blindtex!

Larah Visser


May 29, 2020

Our daughter likes our newly installed roller blinds. They're elegant and of good quality at a reasonable price. We also like how professional they worked with less mess even after all the drilling. Special thanks to Ms. Maria and Mr. Kenneth for helping us choose which material and color are better for our rooms.

Fhelma Guintu


May 17, 2020

Blindtex did a great job! They have a very affordable price and a very good quality. They are very efficient and technology friendly. The thing I loved about them was that they can give you the quotation there and then according to the sizes. The team I got was Maria Kenneth and Aniel. Would love to work with them again on different projects! God bless?

saba shahab


June 23, 2020
A fashionable range
Get the latest blinds and curtains trends all in one place
Expert advice
Find the best-suited solution for your window
Lifetime warranty
Peace of mind with Blindtex Signature products
Bespoke in-home service
Accurately measured, carefully fit and beautifully finished
We measure, we fit, you relax.
Visit our showroom for a free consultation with our Interior Designer!
Our daughter likes our newly installed roller blinds. They're elegant and of good quality at a reasonable price. We also like how professional they worked with less mess even after all the drilling. Special thanks to Ms. Maria and Mr. Kenneth for helping us choose which material and color are better for our rooms.

Fhelma Guintu


May 17, 2020

I am very pleased with my experience with Blindtex. Their motorised blinds are of high quality and their staff are professional and friendly! Maria communicated with me efficiently when I had any queries, and scheduled appointments without any delay. Kenneth is an expert at blind installation, he is very thorough and precise! I have a very large motorised blind installed in the bedroom that was initially causing some trouble, but the Blindtex team found a solution and sorted it out. I am extremely happy with the end results, thank you Blindtex!

Larah Visser


May 29, 2020

I purchased zebra blinds for two rooms. They have a huge catalogue of products to select from and the quality is really good. Ms Nicole at the store was very kind and helpful and she organized the appointment for the team to take the measurements. Team (Ms Maria, Mr Kenneth Aniel) arrived just on time, took the measures, and came back for installation again just on time as they promised. They did a very nice job with the installation of the blinds with perfect fit, and they worked very clean. I even didn't have to do any cleaning after the installation. All of the team members were very kind and professional, and they finished their work quickly. The price may be a bit expensive compared to the market, but the quality of the work and product, and the timelines compensates the difference. Thank you for the good work.

Hakan Esin


May 10, 2020

Blindtex did a fantastic job in manufacturing and installing blinds in our apartment. They provided a great service right through the process from the initial consultation to installation. Very reasonably priced and the blinds are of a very high quality - highly recommended. Amazing all round customer service from Maria and Kenneth!

Jason Palmer


July 5, 2020

The Service was more professional than I would have expected for a company I never heard of before. The team came to the house for consultation and they had great expert knowledge of the blinds and helped me choose the right one without being pushy. I went for the electric roller and they even made suggestion on how they can install it paying attention to the smallest details. Kenneth, Maria and Ariel came back again within a week and installed the roll up blind that exceeded my expectation. All this time they respected the COVID-19 precautions with proper PPE and worked very fast to ensure minimal disruption. They even cleaned up after themselves ! EXCELLENCE

Ibrahim Bashir


May 11, 2020

Amazing company, very professional and great price with amazing staff Maria and Kenneth , they came on time got the materials with them gave me options and helped me what fits better in my house and gave the price on spot , have the card machine with them and the invoice paper on spot and time gave me to installation was exactly and clean after finishing. Very recommend nice staff

elias maayeh


July 9, 2020
A fashionable range
Get the latest blinds and curtains trends all in one place
Expert advice
Find the best-suited solution for your window
Lifetime warranty
Peace of mind with Blindtex Signature products
Bespoke in-home service
Accurately measured, carefully fit and beautifully finished